CPVC | Chemical Processing | Corrosion | Corzan® CPVC | Fabrication
Engineers who design process piping systems often specify Corzan® CPVC because of its unparalleled resistance to many corrosive acids, caustics and salts at operating temperatures up to 200°F. Another reason is that the material offers a higher pressure rating over its useful temperature range than most other thermoplastic materials used for industrial piping.
An atmospheric tank stores liquids at atmospheric pressure. Contained in one of these vessels may be hydrochloric acid, chlorine dioxide, sulfuric acid or some other corrosive, potentially hazardous solution. Each vessel is specially designed, constructed and installed to meet the specific requirements of the plant. Once the vessel has been put into use, the job is not done. Sometimes, ideal conditions are not perfectly maintained or unforeseen events occur, causing problems for the tank. To keep plant workers safe, and to protect the large investment in the plant, inspections must be a fundamental part of the plant's safety program. Follow a specified timeline, technique and team to avoid a costly and hazardous failure.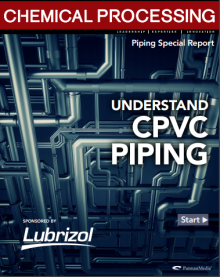 Understanding CPVC Piping Report
Delve deeper into CPVC's capabilities, benefits and performance in the harshest industrial applications.
Fabrication | Piping Systems | Specification
When designing and building industrial systems, including pipes, fittings, valves and tanks, steel is one of the most widely utilized materials. Stainless steel and carbon steel are two common forms that have been used for processing applications for decades. But as political and economic uncertainties compound, the price and supply of commodities like steel becomes more volatile. As of August 2018, the price of steel was 44.2% higher than during the same period last year. After five years of mostly consistent price drops for stainless steel, the recent jump is cause for concern for industrial plants.
For vessels storing hundreds or thousands of gallons of corrosive chemicals, safety is a critical component. To ensure an installed vessel will store chemicals safely, tank design must be based on a documented procedure known as a process safety management (PSM) program. The Occupational Safety and Health Administration (OSHA) outlines general procedures required for PSM programs, which are adopted and adjusted by each plant. The OSHA 1910.119 Process Safety Management of Highly Hazardous Chemicals contains "requirements for preventing or minimizing the consequences of catastrophic releases of toxic, reactive, flammable, or explosive chemicals. These releases may result in toxic, fire or explosion hazards." The section for mechanical integrity states, "equipment used to process, store, or handle highly hazardous chemicals needs to be designed, constructed, installed and maintained to minimize the risk of releases of such chemicals." As a result, make important safety steps and considerations in accordance with the PSM program, which ensures all hazards are assessed and addressed in the final vessel.
Chemical Processing | Chlor Alkali | Fabrication | Water and Wastewater Treatment
When specifying vessel and piping materials for handling and storing corrosive acids and bases, many lean on their educational training, personal experience and familiarity with products. If a carbon steel, stainless steel or fiberglass-reinforced plastic (FRP) vessel was specified for a similar situation in the past, the plant or operations manager is likely to choose it again, regardless of the expected service life. Relying on personal experience can be valuable, unless there is definitively a better option available. Considering alternatives and the reliability they have delivered in existing applications can help plants recognize greater performance, a longer service life and lower lifecycle costs. To accurately evaluate materials, key comparison factors must first be considered.
Contrary to what some may assume, Corzan® Industrial Systems does not produce the final CPVC products used in industrial plants around the globe. Rather, we engineer and manufacture CPVC compound from PVC resin, as the chart depicts below. The Corzan CPVC compound that is shipped to partner manufacturers in pellet or powder form has been fortified with additives to provide superior strength, UV resistance and improved processability for manufacturers. Our proprietary CPVC compound also offers inherent resistance to corrosion, high temperatures and high pressures no matter what final form it takes. Our partner manufacturers transform Corzan CPVC pellets and powder into the piping, fittings, sheet, shapes and other CPVC products end users receive. This process begs the question from potential customers: How does Corzan Industrial Systems ensure each product offers consistent quality regardless of when, where or by whom the product is manufactured?
Ducting | Fabrication | Piping Systems | Semiconductor
Manufacturer cleanrooms keep small particles from adversely affecting production quality. Semiconductor plants, for example, often use cleanrooms when layering and etching silicone wafers for computer chips. Because many hazardous, highly reactive gases and liquids are used to keep semiconductor processes clean, accidental fires can occur. Even the smallest fire and subsequent smoke can: Contaminate a cleanroom, putting a semiconductor plant out of operation for extended periods of time. Create a fire hazard and require immediate evacuation. A proactive solution—typically required for cleanrooms—is to use fire retardant materials across the cleanroom that are both difficult to ignite and give off little to no smoke. When specifying cleanroom piping, ducting, flooring and more, semiconductor manufacturers should look for materials tested in accordance with FM 4910 standards.
Chemical Processing | Chlor Alkali | Fabrication | Mineral Processing | Power Generation | Semiconductor | Water and Wastewater Treatment
Chlorinated polyvinyl chloride (CPVC) is a versatile compound manufactured into many geometries, including sheet, piping and fittings. When produced as sheet, CPVC can is often fabricated for various industrial products, including tanks, scrubbers, ventilation processes and more. The sheet can also be used as a liner and overwrapped with fiber-reinforced plastic (FRP). FRP-lined CPVC utilizes CPVC's corrosion resistance and relies on the FRP to increase its heat performance and mechanical strength. Take a look at a few examples of how CPVC sheet is fabricated for use across different industrial plants and applications. For information on other industrial applications where CPVC sheet is used, contact Corzan® Industrial Systems to speak to a representative.
Food, pharmaceutical, chemical and paper industries often use vessels for processing corrosive and caustic substances. Traditionally, these vessels are composed of steel, fiberglass or exotic alloys. Because chemical corrosion often deteriorates metals over time, the need for a more compatible and long-lasting vessel material is apparent. The solution? Dual laminate vessels. Dual laminate vessels are hybrid chemical storage systems made up of a thermoplastic liner and a fiber reinforced plastic (FRP) shell. The FRP component provides mechanical strength to the vessel, while the thermoplastic liner increases the chemical resistance of the inside, preventing corrosion. Thermoplastics allow dual laminate vessels to withstand the effects of highly corrosive chemicals at high temperatures. These chemicals may include: Sodium hypochlorite Hydrochloric acid Cell liquor (brine, sodium hydroxide) Sodium Chloride Sodium hydroxide Demineralized, deoxidized water The inherent chemical resistant properties of thermoplastics, like CPVC, result in longer-lasting containers. This material choice directly reduces the downtime required for repairs and can limit replacements. However, dual laminate vessels must be designed and fabricated specifically for each plant's applications and needs. Below, we explain how dual laminate vessels are manufactured to withstand the effects of these highly corrosive substances, and the main phases that must be carefully considered.
We often receive questions from industrial engineers about CPVC products—including, what goes into creating CPVC, why is it better than other materials, and ultimately, where can CPVC products be purchased? In the engineering and production of industrial CPVC, each step is critical—from raw material to PVC, PVC to CPVC, and CPVC to finished product. The highest quality CPVC products available outperform generic alternatives as a result of innovation and quality control from start to finish.