It was in 1911 that the ASME Boiler and Pressure Vessel Code (B&PVC) became a topic of great discussion born out of the need to protect public safety. Invention of the steam engine, boilers, and other sources of pressure systems made it apparent that something must be done.
Based in Ocean Springs, Mississippi, B & D Plastics is a leader in the design and fabrication of fiberglass and dual laminate process equipment. The company sought a material that would provide the mechanical strength and chemical resistance needed to enhance the structural integrity of its fabricated composite structures, including scrubbers, towers, evaporators, precipitators, clarifiers, storage tanks and piping systems.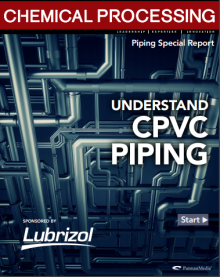 Understanding CPVC Piping Report
Delve deeper into CPVC's capabilities, benefits and performance in the harshest industrial applications.
Mineral processing plants require safe, reliable piping systems that ensure facilities remain operational and more productive over the long term. But, mineral processing facilities present tough challenges for piping systems, including the presence of aggressive chemicals, temperature extremes, continual exposure to ultraviolet radiation and more.
Every company has safety policies to protect its workers, and employee safety should always be the most important consideration when selecting an industrial piping system. Is the piping system functional and reliable? Will it provide the long-term performance expected without bursting or resulting in leaking pipe that can expose workers to dangerous chemicals?
Many companies have corporate policies regarding sustainability and encourage employees to specify sustainable products provided by suppliers committed to environmental responsibility and improving lives. And even though piping systems may be installed overhead or underground where they are not as visible, they play an important role in helping companies achieve their green goals.