Americans today produce and consume more energy, drive more miles and live more comfortably than ever before while reaping the rewards of a cleaner environment. These facts are backed by the Environmental Protection Agency (EPA) air quality data and refute some claims that air quality in the U.S. is getting worse.
Playwright George Bernard Shaw once stated that "the single biggest problem in communication is the illusion that it has taken place." This statement applies to many life and business situations but is especially true for industrial facilities undergoing plant upgrades.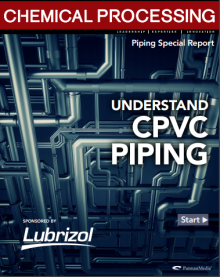 Understanding CPVC Piping Report
Delve deeper into CPVC's capabilities, benefits and performance in the harshest industrial applications.
Fertilizer, batteries and detergent have one thing in common – all of these products utilize sulfuric acid in the production process. When properly processed and handled, sulfuric acid is one of the most useful and common chemicals used by multiple industries worldwide.
When the snow flies this winter, we'll remain comfortable inside our homes, office buildings or the industrial facilities where we work because of the boiler systems that provide heat. Industrial hot water boiler systems that generate thermal heat are similar to the heating boilers found in the basement or crawl space of most homes – except they are much larger to accommodate the application needs. Industries such as food processing, for example, require significant thermal energy to boil or heat raw foods during processing.
Not even the Environmental Protection Agency (EPA) knows how many different chemicals are in use today – although the agency has more than 85,000 chemicals listed as substances that fall under the Toxic Substances Control Act (TSCA).
Summertime is filled with images of beautiful blue skies, green grass, and picturesque sunsets – all part of a blistering hot environment in much of the U.S. During the summer heat, we like our drinks to be cold and our homes, offices and cars to be cool. Did you ever think about how this is accomplished?
Industrial Info Resources is a leading provider of industrial global market intelligence that reported the U.S. and Canadian Chemical Industry would spend $51 billion in 2017, and $51.7 billion in 2018. The group predicts a $53 billion investment in chemical industry capital projects during 2019.
The oil and gas production industry places tremendous demands on its piping systems, with onshore and offshore applications impacted by harsh chemicals, corrosive saltwater environments, low and high temperatures and elevated pressure. The industry primarily relied on metallic piping systems in the past as this was the type of material that was available. In most cases, thermoplastics such as chlorinated polyvinyl chloride (CPVC) did not have sufficient history within the oil and gas industry for engineers to specify them.
Processes within power generation plants must be reliable and efficient – especially since facilities cannot economically store electric power and must be online and produce power to meet demand. The need for high levels of reliability coupled with the ability to withstand the very harsh conditions present in most power generation plants is inciting designers to specify non-metallic pipe materials such as Corzan CPVC® to achieve long-term, cost-effective performance.
The heat is on for piping systems installed in most industrial environments – in the form of high temperatures, elevated pressure, thermal cycles, excess heat generated by the sun and the heat of exotherms resulting from process upsets and operator error. Fire is also a hazard in many industrial applications, and especially within the chemical processing industry, and requires engineered systems with properties such as ignition resistance, burning resistance and flame spread resistance to help keep workers safe and limit property damage in the event of a fire.