Chemical Processing | Chlor Alkali | Fabrication | Water and Wastewater Treatment
When specifying vessel and piping materials for handling and storing corrosive acids and bases, many lean on their educational training, personal experience and familiarity with products. If a carbon steel, stainless steel or fiberglass-reinforced plastic (FRP) vessel was specified for a similar situation in the past, the plant or operations manager is likely to choose it again, regardless of the expected service life. Relying on personal experience can be valuable, unless there is definitively a better option available. Considering alternatives and the reliability they have delivered in existing applications can help plants recognize greater performance, a longer service life and lower lifecycle costs. To accurately evaluate materials, key comparison factors must first be considered.
Piping Systems | Water and Wastewater Treatment
You have likely heard it before—more than 70% of the earth is covered by water. However, in terms of potentially consumable water, freshwater only makes up 2.5% of total global water. And 68.7% of all freshwater is bound up in glaciers and ice caps. Put simply, most of the earth's natural water cannot be easily consumed to sustain life. And with the global population increasing an estimated 83 million people per year, efficient methods for creating safe drinking water must be increasingly adopted. The greatest opportunity for new freshwater is to utilize easily available seawater and convert it to usable drinking water. Desalination is the process used to remove salt from saline water to create potable water. To create a dependable desalination system that will handle its unique demands, specific considerations must be made for the piping material selection.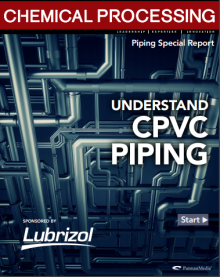 Understanding CPVC Piping Report
Delve deeper into CPVC's capabilities, benefits and performance in the harshest industrial applications.
Piping Systems | Water and Wastewater Treatment | semicondutor
When employing salts, brine or other saltwater solutions in industrial processes, the plant's decision of which piping material greatly impacts lifecycle costs. Some may see corrosion as a necessary evil when dealing with salts, but proper material selection limits unnecessary repairs, downtime and cost. Over the course of years or decades, this can result in millions of dollars saved in direct expenses and opportunity costs caused by downtime.
Chemical Processing | Chlor Alkali | Fabrication | Mineral Processing | Power Generation | Semiconductor | Water and Wastewater Treatment
Chlorinated polyvinyl chloride (CPVC) is a versatile compound manufactured into many geometries, including sheet, piping and fittings. When produced as sheet, CPVC can is often fabricated for various industrial products, including tanks, scrubbers, ventilation processes and more. The sheet can also be used as a liner and overwrapped with fiber-reinforced plastic (FRP). FRP-lined CPVC utilizes CPVC's corrosion resistance and relies on the FRP to increase its heat performance and mechanical strength. Take a look at a few examples of how CPVC sheet is fabricated for use across different industrial plants and applications. For information on other industrial applications where CPVC sheet is used, contact Corzan® Industrial Systems to speak to a representative.
Chemical Processing | Chlor Alkali | Mineral Processing | Power Generation | Semiconductor | Water and Wastewater Treatment
As the pioneer in chlorinated polyvinyl chloride (CPVC) technology, Corzan® Industrial Systems has proven its value and reliability for use in many types of industrial plants. To learn more about CPVC and its compatibility and uses across six demanding industrial applications, view our latest infographic. If you prefer not to open the PDF infographic, read on for a text-only version. Corzan® chlorinated polyvinyl chloride (CPVC) is an important engineering thermoplastic due to its: High heat distortion temperature. Certified for use up to 200°F (93.3°C). Relatively low material cost. Has successfully replaced and outlasted metals and other costly materials. Inherent chemical resistance. Corrosion-free piping to maintain pressure ratings, flow rates and fluid purity, and to prevent costly repairs. Simple and superior installation. Solvent welding fuses the piping and fitting at the molecular level, maintaining system performance. Fire-related safety advantages. Heat transfer coefficient is approximately 1/300th that of steel, and the material does not sustain burning and requires no flame to install. Certified pressure rating. Pressure rated in accordance with ASTM D2837, having a Hydrostatic Design Basis (HDB) of 4000 psi at 72°F (23°C) and 1000 psi at 180°F (82.2°C). Learn more about CPVC by visiting our resource library, featuring ebooks, white papers, practical tools and more.
Piping Systems | Power Generation | Semiconductor | Water and Wastewater Treatment
When the purity of water and other solutions is critical, each component that comes into contact with the fluid—such as the piping material—must maintain high-purity standards throughout its life. The smallest system impurities can: Inhibit the effectiveness of the system Reduce the life of expensive systems Increase processing downtime Cause health issues for the end product Impurities in a solution are a result of leaching, or the dissolution of metals, solids and chemicals into a fluid. Consider lead piping, for example. Before the Environmental Protection Agency (EPA) implemented the Lead and Copper Rule (LCR) in 1991, lead piping was used for plumbing. After the lead pipe began to corrode—whether from water temperature, acidity or a lifetime of wear—the lead would leach harmful contaminants into the water supply. Read on to see why industries should care about leaching and the materials that maintain water purity.
Trade Show | Water and Wastewater Treatment
WEFTEC® is the largest annual water quality event in the world. Industry professionals from around the world gather to find the best water quality education and training available today. At this year's event, the Water Environmental Federation's Technical Exhibition and Conference (WEFTEC) will be celebrating 90 years of the event. The exhibition floor will host technology leaders at the forefront of the field, including Corzan® Industrial Systems. Stop by booth #6451, where our team of regional CPVC product and engineering specialists will be on hand to provide advice, information, and training on piping systems for water and wastewater treatment applications. Specifically, we can explain how advanced CPVC technology can increase operational efficiency, minimize downtime and improve bottom line performance. Learn more about CPVC, the pipe and fitting material more wastewater engineers are turning to. Event Details: Where: McCormick Place in Chicago, Illinois Dates: Conference: September 30 - October 4, 2017 (Exhibition: October 2 - 4, 2017) Booth: 6451 More Details: Visit www.weftec.org.
Piping Systems | Water and Wastewater Treatment
The safety performance of industrial piping material cannot be overstated—these environments have hundreds, often thousands, of lives at stake, causing them to be closely monitored and regulated by government bodies such as the U.S. Occupational Safety and Health Administration and the Environmental Protective Agency (EPA). Add cost and reliability to the list of important factors when considering industrial piping choices, and it's clear why material selection for process water applications is such an important one. Among the many piping choices in the industry, the superior strength, performance and safety of chlorinated polyvinyl chloride (CPVC) make it an ideal system for industrial process water applications. Traditionally, engineers and procurement professionals have relied largely on steel and other higher alloys for industrial piping. However, an overall analysis reveals that CPVC often outperforms metallic systems and is more cost effective over a longer period of time. Yielding an overall lower installation cost, fewer maintenance and safety concerns, and strong performance with a wide variety of chemicals, CPVC is a material that is gaining the attention of many. And the benefits don't stop there. CPVC offers eight primary advantages that can, and have improved the bottom line of industrial process water applications worldwide.
Case Study | Piping Systems | Water and Wastewater Treatment
When Goodrich's Aerospace Landing Gear Division changed its chromium emission control system from a wet-pack scrubbing system to dry-mist eliminators, it wanted to be certain it satisfied Environmental Protection Agency (EPA) requirements. The system designer / supplier provided two separate systems for Goodrich, each serving half of the company's chromium processing lines with the capability of changing from one to the other in the event of an emergency. The company designed a system well below the MACT standard of 0.015 mg/cu meter. The two systems were installed in December 1995 and January 1996. When independent test data was collected and tabulated in July 1996, both systems were at least 10 times better than the designer's criteria and even lower than the 0.015 mg/cu meter required by the MACT standard.
Piping Systems | Water and Wastewater Treatment
Water and wastewater infrastructure in the U.S. continues to deteriorate as its repair stays on the back burner due to economic uncertainty and lack of funds. To address costly repair issues, engineers and end users must think beyond what was good enough in the past and adopt innovative technologies that offer more economical installation, higher durability and reduced total life-cycle costs.