Piping Systems | Pulp and Paper
In virtually every line of the pulp and papermaking process, freshwater, process liquids and liquors flow through pipes, filters and screens, and are stored in tanks. The need for paper products in our society is critical, as we have seen during the pandemic of 2020. How the process efficiently and responsibly creates the products is a complex maze of technology that transforms trees into paper. Caustic and corrosive chemicals – sodium hydroxide, sodium sulfide, sodium sulfate and sodium carbonate – are at the heart of these processes. In the process flows, there are wide swings in pH levels as chemical reactions galore advance toward making the finished product we use every day.
Corzan® CPVC | Power Generation
In power plant operations, process chemicals can degrade and reduce the service life of many metal piping systems, potentially causing expensive unscheduled maintenance, disruptive outages in critical operations, and property-damaging leaks in these systems. All of these issues require responsible operators to establish and implement corrosion control and management programs to assure plant availability. These programs typically amount to an ongoing and significant outlay of financial and other resources.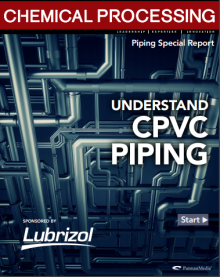 Understanding CPVC Piping Report
Delve deeper into CPVC's capabilities, benefits and performance in the harshest industrial applications.
Americans today produce and consume more energy, drive more miles and live more comfortably than ever before while reaping the rewards of a cleaner environment. These facts are backed by the Environmental Protection Agency (EPA) air quality data and refute some claims that air quality in the U.S. is getting worse.