Industrial plants are challenging environments for piping systems, which are subject to extreme pressures, temperatures, stress and even impact. No matter what piping material is specified, piping system stresses must be considered and modifications made during system design to prevent issues that could require extensive repair or replacement.
Downtime can be a significant financial burden for an industrial plant, taking a toll on the facility's productivity and bottom line. Planning for an approaching upgrade to a plant's piping system can help expedite the update while limiting downtime and minimizing costs.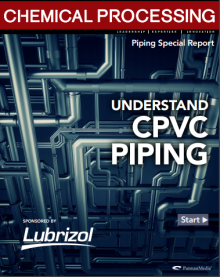 Understanding CPVC Piping Report
Delve deeper into CPVC's capabilities, benefits and performance in the harshest industrial applications.
Designers and engineers who specify piping systems want the correct product for the application to ensure reliable long-term, cost-effective performance. Chlorinated polyvinyl chloride (CPVC) meets the needs of a wide range of applications as an engineering thermoplastic that is important to the project flow process.
Weight matters for piping systems used for industrial applications. It makes sense that a lightweight piping system such as chlorinated polyvinyl chloride (CPVC) is easier to transport, store and handle than heavier piping like steel.
Wastewater treatment processes are more complex than ever, complicated by stricter discharge and odor standards, increased plant flows, fewer sludge disposal options, stronger EPA piping regulations and tighter budgets. The good news is that opportunities exist to select piping materials that improve plant performance while reducing treatment costs and keeping facilities compliant.
Every year, wastewater treatment plants across the U.S. treat an estimated 61 cubic kilometers of wastewater – roughly the same volume of water that flows over Niagara Falls during a 12-month period. The wastewater treatment process requires large vessels and piping systems to convey and handle very polluted water and highly corrosive and caustic chemicals.
Designers and engineers often have dozens of choices when specifying piping systems for industrial environments. Over the years, however, plastic piping such as chlorinated polyvinyl chloride (CPVC) has become increasingly popular due to performance advantages such as outstanding corrosion resistance. As a thermoplastic, CPVC piping also offers optimum flow rates, safety benefits, ease of installation and little or no maintenance.
Many industrial environments such as the chemical processing industry, power generation plants, mineral processing and oil and gas operations use piping systems that are partially or completely installed outdoors. Piping systems used in outdoor applications must be able to maintain their basic physical properties after prolonged exposure to the elements – wind, rain/humidity, direct sunlight and seasonal and extreme temperatures.
Playwright George Bernard Shaw once stated that "the single biggest problem in communication is the illusion that it has taken place." This statement applies to many life and business situations but is especially true for industrial facilities undergoing plant upgrades.
Fertilizer, batteries and detergent have one thing in common – all of these products utilize sulfuric acid in the production process. When properly processed and handled, sulfuric acid is one of the most useful and common chemicals used by multiple industries worldwide.