Corzan Industrial | Corzan® CPVC
At Lubrizol Advanced Materials, we are very selective about only partnering with industry leaders with outstanding reputations for quality. Lubrizol is proud to welcome RVT Process Equipment as a licensed Corzan® CPVC manufacturing partner.
CPVC Solvent Cement | Piping Systems | Welding Thermoplastics
"Glue" is a term commonly inappropriately applied to the solvent cement process for thermoplastics. It is true that some types of thermoplastics utilize glues, but not all. Don't let misconceptions about joining methods be the downfall of your project. CPVC materials manufactured to ASTM standards, such as ASTM 441 and ASTM F439, are designed to be chemically welded through a process known as solvent cement welding. It is not a glue.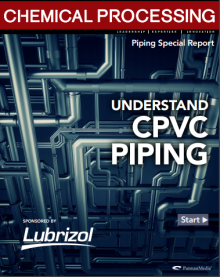 Understanding CPVC Piping Report
Delve deeper into CPVC's capabilities, benefits and performance in the harshest industrial applications.
Merriam-Webster defines generic as "anything that is not sold or made under a particular brand name." But when it comes to materials, what's in a brand name, and how does a branded material differ from a generic? For instance, in some product categories, a generic version of a material may well be an acceptable choice to accomplish the function at hand.
There is no playbook for manufacturing in a 100-year pandemic, but in the midst of a crisis, game plans come together in a hurry. The team producing Lubrizol CPVC compounds in Louisville, Kentucky, has found that when people pull together, rely on their value system in decision making, and know they can depend on each other, it is possible to rise to the most unforeseen challenges.
Water presents the ideal environment for bacterial microbe development. Harmless microbials occur naturally in water and most are completely safe. Bacterial microbe growth in pipes, however, can affect water quality and create contamination problems. As microbes grow, they attach to the wetted surfaces in the water distribution system and protect themselves from disinfecting agents by forming microbial biofilms.
Confidence is one of the greatest assets an industrial piping system can offer – confidence the system will perform as expected.