Versatile Corzan CPVC® is specifically engineered to meet performance requirements in the harshest environments across a wide range of industries. The material is inherently inert to most mineral acids, bases, salts and aliphatic hydrocarbons and resists corrosion, a common problem that plagues many industries and results in costly downtime and repairs. CPVC also offers superior mechanical properties to ensure a long service life with minimal pipe maintenance.
Metal may have been the material of choice for industrial piping systems during decades past. But the cost to install and maintain a metal system may overshadow performance advantages such as metal's strength and its ability to withstand high levels of heat and elevated temperatures.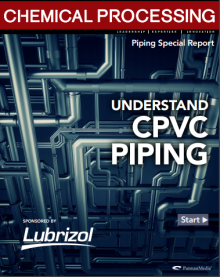 Understanding CPVC Piping Report
Delve deeper into CPVC's capabilities, benefits and performance in the harshest industrial applications.
Industrial applications are demanding environments for any piping system, placing stress on materials and joints. Piping materials and their connections must be able to withstand challenges such as constant vibration and water hammer, extreme temperatures, changing pressures and exposure to highly corrosive chemicals.
Corzan® chlorinated polyvinyl chloride (CPVC) offers the peace of mind that comes with a piping system that provides superior resistance to corrosive chemicals at high temperatures and pressures. Corzan CPVC can be used for pressurized service up to 200°F and offers a higher pressure rating over most of its useful temperature range than most of the other thermoplastic materials used for industrial piping. as illustrated in the chart below.
Manufacturers fabricating unique products typically require unique processes. Creating distinctive products demands customized equipment that resists corrosive chemicals and harsh mixtures to optimize processes and drive down production costs. Corzan® CPVC has been meeting manufacturers' material needs for over 60 years, helping to fabricate high quality products that meet their customers' specific requirements.
Industries invest millions of dollars each year in technology and equipment to grow their productivity, profits and performance. Yet, a silent hazard in the form of corrosion continues to plague industries around the world, with the global cost of corrosion surpassing $2.5 trillion each year, which is 3.4 percent of the global GDP. Corrosion costs the U.S. production and manufacturing sector $17.6 billion annually.
Power generation plants move large quantities of water, caustics and corrosive chemicals during the power production process. Designing piping systems for these facilities can be a challenge based on the very nature of the chemicals used and the high levels of heat and pressure.
Industrial piping design engineers are naturally cautious people. They like to feel confident that the system they install will operate safely and reliably over the long term.
A surge in pressure within a piping system, known as water or fluid hammer, occurs whenever the linear flow rate of fluid in pipe changes quickly – when pumps start or stop, valves open or close with quick acting actuation devices, or entrapped air moves within the system. The longer the pipe line and the faster the fluid is moving, the greater potential for shock.
A bottleneck within a plant operation generally occurs when a portion of the process throughput slows down, reducing process efficiency and profitability. The identification of process bottlenecks is in itself a skill and an artform. Proper due diligence during the design, material selection, procurement and installation of a piping system can eliminate many of the bottlenecks that are often associated with metallic piping systems.