Piping Systems | Waste and Wastewater Treatment
The following is an excerpt from "CPVC Use in Wastewater Treatment Plants." Download the full ebook to learn more about where CPVC can be installed in wastewater treatment plants, which chemicals CPVC stands up against and how CPVC compares to alternatives in various applications. Wastewater treatment plants are extremely corrosive environments. During the treatment process, large vessels and piping systems convey polluted water and highly corrosive and caustic chemicals. To keep wastewater treatment plants efficient and cost-effective, appropriate material selection is critical. Corrosion to pipes, valves and fittings caused by chemicals and microbes can greatly impact the bottom line at water and wastewater treatment plants. As a result, engineers and procurement officials turn to an economical, reliable material—chlorinated polyvinyl chloride (CPVC).
In an industrial system, and in any piping system, valves are used to restrict, stop or control the flow of fluid. More specifically, some industrial valves are used to: Control the cooling rates of water through cooling lines to regulate the temperature. Manage the flow of concentrated acids or bases flowing through a line. Redirect flow from one line to another at a three-way valve. Restrict flow for system balancing. Prevent reverse flow (check valves). Automatically stop the flow in the event of a system failure. When considering available valves for an industrial system, evaluation depends on both the short term and long term performance of a valve. And depending on the application, one valve may outperform another and provide a superior service life.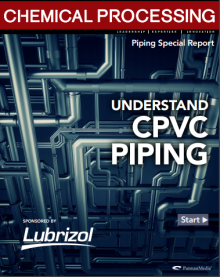 Understanding CPVC Piping Report
Delve deeper into CPVC's capabilities, benefits and performance in the harshest industrial applications.
Chemical Processing | Chlor Alkali | Fabrication | Water and Wastewater Treatment
When specifying vessel and piping materials for handling and storing corrosive acids and bases, many lean on their educational training, personal experience and familiarity with products. If a carbon steel, stainless steel or fiberglass-reinforced plastic (FRP) vessel was specified for a similar situation in the past, the plant or operations manager is likely to choose it again, regardless of the expected service life. Relying on personal experience can be valuable, unless there is definitively a better option available. Considering alternatives and the reliability they have delivered in existing applications can help plants recognize greater performance, a longer service life and lower lifecycle costs. To accurately evaluate materials, key comparison factors must first be considered.
Piping Systems | Power Generation
This post is an excerpt from the free downloadable ebook, CPVC Use in Power Generation Plants. To access the full ebook, click here. Power generation plants of all types—from gas turbine combined cycle to nuclear to combined heat and power—all require the movement of large amounts of water and handle caustics and corrosives. Unfortunately, due to the nature of the chemicals used and levels of heat and pressure involved, there are few pipe, valve, fitting, ducting and tank liner material choices available that can provide long-term reliability. That said, judiciously assessing these material options on a system-by-system basis can directly increase operational efficiency, minimize downtime and improve bottom-line performance.
Mitigating corrosion is a frequent topic of Corzan® Industrial Systems educational resources, and for good reason. Many industrial applications still use materials that are not compatible with their process out of habit and comfort, leading to corrosion, costly repairs, and system downtime. These results all create significant material, installation and opportunity costs. To mitigate these issues, Corzan Industrial Systems introduces corrosion resistant materials where applicable to increase the safety, efficiency and reliability of industrial plants. With chemical resistance to over 400 chemicals, Corzan CPVC pipes and fittings have been solving compatibility issues for over 60 years. The latest development in that effort is Corzan Industrial Systems' growing partnership with NACE International.
Installation Guide | Piping Systems
In our previous post, we discuss the various formulas used to determine flow rate, flow velocity and pressure loss, as well as the factors that piping material selection plays in optimizing fluid handling. Read the full post, here. When designing industrial piping systems, engineers want a system that will minimize expenses over the long term. Excessive energy consumption increases costs and hurts the bottom line. Piping system design attempts to maximize energy usage by minimizing resistance to the fluid flow. The harder pumps have to work to move the fluid through the system, the more energy consumed and money spent. Understanding how pipe fittings, valves and strainers create resistance to fluid flow in industrial piping system helps engineers design more energy-efficient systems.
Installation Guide | Piping Systems
In industrial plants, we often discuss what is being conveyed in the pipe as a function of system design. How a material performs with respect to corrosion and temperature resistance when interfacing with different fluids is a significant consideration during system design. Nearly equal in importance is how the fluid is moving through the pipe. Flow rate plays a significant role in determining a system's longevity, as well as its day-to-day energy consumption. Understanding the efficiency with which a fluid can pass through a piping material is a significant step toward ensuring the long-term reliability and cost savings potential of certain materials.
Installation Guide | Piping Systems
This post was originally published in August 2017 and has been updated with additional information and resources, including The Complete Solvent Cement Guide. Chlorinated polyvinyl chloride (CPVC) pipe and fittings are rapidly growing in popularity in both corrosive and high-temperature applications. One reason is, unlike traditional metallic pipes, CPVC piping systems are inert to most mineral acids, bases and salts found in mineral processing, chemical processing, power generation and wastewater treatment facilities. CPVC piping systems can be joined using flanging, threading or mechanical joining. But in many cases, the recommended method is solvent cement. Solvent cement is a fast, easy and highly reliable process that produces a joint stronger than either the pipe or fitting alone.
Piping Systems | Power Generation | Semiconductor
Demineralized or deionized water is used for many lab reactions, laboratory equipment washing, industrial processing applications and more. This water has been purified of ions, minerals, bacteria and other organics that may have been present. Any of those contaminates can alter chemical reactions, cause scaling and corrosion for piping systems, and create a number of unique problems for specific applications. Once demineralized and deionized, water can still harm piping systems if the wrong material is specified because pure water becomes more reactive. Learn about the use cases, qualities and preferred piping systems of purified water to keep your flow free of contaminates and your piping system running longer.
Piping Systems | Water and Wastewater Treatment
You have likely heard it before—more than 70% of the earth is covered by water. However, in terms of potentially consumable water, freshwater only makes up 2.5% of total global water. And 68.7% of all freshwater is bound up in glaciers and ice caps. Put simply, most of the earth's natural water cannot be easily consumed to sustain life. And with the global population increasing an estimated 83 million people per year, efficient methods for creating safe drinking water must be increasingly adopted. The greatest opportunity for new freshwater is to utilize easily available seawater and convert it to usable drinking water. Desalination is the process used to remove salt from saline water to create potable water. To create a dependable desalination system that will handle its unique demands, specific considerations must be made for the piping material selection.