Corzan® CPVC | Power Generation
The hazardous caustic and corrosive chemicals and levels of heat and pressure involved in treating and moving large volumes of water in power plant operations make it incumbent upon system designers to choose from among the few materials for pipe, valves and fittings that can reliably stand up to these rigors. In plants from gas turbine combined cycle to nuclear to combined heat and power, one of the most reliable such materials is thermoplastic Corzan® CPVC.
In the life of a chemical processing or industrial plant, the conflict between adopting a lifecycle view of the operation vs. lower up-front capital expenditures is always present. In this context, the perception of "cost" has various implications for decision-making. Leadership will always have to balance the many factors that affect its long-term operations methodology.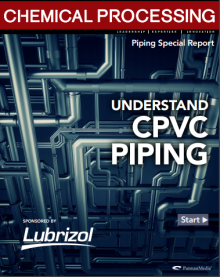 Understanding CPVC Piping Report
Delve deeper into CPVC's capabilities, benefits and performance in the harshest industrial applications.
CPVC Solvent Cement | Corzan® CPVC | Piping Systems
The question often arises, can I weld pipe and sheet together? The answer is yes, but the process requires skilled thermoplastic welders who are properly trained and have been tested just as metallic certified welders are tested.
Manufacturing integrated circuits (or chips) is a highly complex process that presents unique challenges for industrial piping systems. Toxic, highly corrosive and flammable gases and liquids can compromise a system's integrity, causing process leaks and premature failure. In addition, few piping materials can meet the high purity standards required for cleanrooms.
Lubrizol's Bryan Hutton to Speak at the Chlorine Institute Technology Symposium on March 15 Chemical manufacturing facilities have a tremendous burden of providing safe, economical and environmentally friendly operations. And while the plant engineering community has had extensive training with metallic systems, it's had limited exposure to the capabilities and performance data of industrial thermoplastics, specifically CPVC.
Corrosion is a widespread and expensive problem that impacts every industry around the globe. In 2016, NACE International released the "International Measures of Prevention, Application and Economics of Corrosion Technology (IMPACT)" study, which estimated the global cost of corrosion at approximately $2.5 trillion (USD).
Designers and engineers often specified metal piping for industrial applications in the past based on the material's familiarity. Today, metal piping is still used in some environments because of misperceptions regarding chlorinated polyvinyl chloride (CPVC) piping.
Environmental stress cracking (ESC) is one of the leading causes of plastic pipe failure. It occurs when the piping material is simultaneously subjected to mechanical stress and certain types of chemicals.
Minimizing energy costs is one of the main areas of opportunity for plant owners looking to increase their bottom-line. At a macro level, according to the U.S. Energy Information Administration (EIA), the industrial sector uses more energy than any other sector, consuming about 54% of the world's total delivered energy. Engineers are always looking for ways to optimize system processes to improve energy efficiency to decrease energy expenses. Proper piping material selection is one opportunity to limit energy consumption. Take a look at how CPVC piping compares to metal piping in terms of energy efficiency across a system's lifecycle, even before the pipe is installed.
Industrial plants are challenging environments for piping systems, which are subject to extreme pressures, temperatures, stress and even impact. No matter what piping material is specified, piping system stresses must be considered and modifications made during system design to prevent issues that could require extensive repair or replacement.