When designing a data center, uptime is mission critical in choosing your design criteria. For many companies, the data center – that dedicated location for the operation and monitoring of information technology and computing assets – can be as valuable to operations as any piece of equipment. For some companies, the mission is so critical to maintaining business continuity that other highly expert companies operate the data center for them to ensure that stringent uptime requirements are met.
Chlor Alkali | Power Generation | Water Treatment
Membrane technology continues to advance at a lightning pace. A type of separation process, membrane technology, is being utilized in processes as varied as absorption, distillation, fouling, microfiltration, nanofiltration, reverse osmosis, ultrafiltration, and desalination. And as the technology advances, so does the dependence on piping systems to maintain fluid stream purity.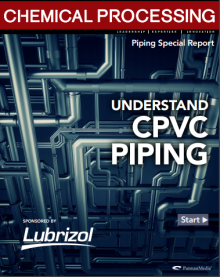 Understanding CPVC Piping Report
Delve deeper into CPVC's capabilities, benefits and performance in the harshest industrial applications.
Chemical Processing | Corzan® CPVC
Every day, industrial plant professionals must balance many roles and responsibilities that have a direct bearing on OPEX and CAPEX. If they operate facilities with metallic piping systems, part of the job of necessity involves becoming an expert on corrosion – its causes, mitigation and prevention – and devoting significant resources to it from both categories.
Merriam-Webster defines generic as "anything that is not sold or made under a particular brand name." But when it comes to materials, what's in a brand name, and how does a branded material differ from a generic? For instance, in some product categories, a generic version of a material may well be an acceptable choice to accomplish the function at hand.
Corzan® CPVC | Power Generation
In power plant operations, process chemicals can degrade and reduce the service life of many metal piping systems, potentially causing expensive unscheduled maintenance, disruptive outages in critical operations, and property-damaging leaks in these systems. All of these issues require responsible operators to establish and implement corrosion control and management programs to assure plant availability. These programs typically amount to an ongoing and significant outlay of financial and other resources.
There is no playbook for manufacturing in a 100-year pandemic, but in the midst of a crisis, game plans come together in a hurry. The team producing Lubrizol CPVC compounds in Louisville, Kentucky, has found that when people pull together, rely on their value system in decision making, and know they can depend on each other, it is possible to rise to the most unforeseen challenges.
Basic principles of physics and thermodynamics dictate that the surface temperature of an industrial piping system when installed during ambient temperature conditions will change when it transitions to the operating state for which the system is designed. This is especially true if the piping system is installed during one season and goes into service in another. Outside installations are always subject to the thermal cycling of a typical day as well as seasonal climate cycling. In addition, our experience and understanding of external installations shows us that the solar energy of the sun can impact the surface temperature of piping in a pipe rack, adding heat that can lead to a total surface temperature significantly higher than the ambient temperature of the region.
Corzan® CPVC | Power Generation
The hazardous caustic and corrosive chemicals and levels of heat and pressure involved in treating and moving large volumes of water in power plant operations make it incumbent upon system designers to choose from among the few materials for pipe, valves and fittings that can reliably stand up to these rigors. In plants from gas turbine combined cycle to nuclear to combined heat and power, one of the most reliable such materials is thermoplastic Corzan® CPVC.
In the life of a chemical processing or industrial plant, the conflict between adopting a lifecycle view of the operation vs. lower up-front capital expenditures is always present. In this context, the perception of "cost" has various implications for decision-making. Leadership will always have to balance the many factors that affect its long-term operations methodology.
CPVC Solvent Cement | Corzan® CPVC | Piping Systems
The question often arises, can I weld pipe and sheet together? The answer is yes, but the process requires skilled thermoplastic welders who are properly trained and have been tested just as metallic certified welders are tested.