Not All CPVC Piping Systems Perform the Same
This post was originally published in August of 2017, and has been updated with more information and resources, including a video comparison burst test.
Since its introduction to the market in 1959 by The Lubrizol Corporation, chlorinated polyvinyl chloride (CPVC) has proven to be an attractive alternative to traditional industrial metallic piping systems for a variety of chemical process environments.
CPVC is inert to most mineral acids, bases, salts and aliphatic hydrocarbons, which eliminates corrosion and scaling concerns. In addition, CPVC offers high impact resistance, pressure capabilities and heat distortion temperature (HDT), making it ideal for harsh industrial applications.
By choosing CPVC material, industrial processes can improve their piping system's service life, lower maintenance costs and reduce downtime.
But it is important to note, not all CPVC offers the same level of performance, and CPVC should not be confused with the limited capabilities of polyvinyl chloride (PVC) piping.
Why CPVC is Entirely Different Than PVC
The distinct advantages of CPVC industrial piping result from the material's unique molecular structure. CPVC is a PVC homopolymer that has been subjected to a chlorination reaction. In PVC, a chlorine atom occupies 25 percent of the bonding sites on the carbon backbone while the remaining sites are filled by hydrogen.
CPVC differs from PVC in that approximately 40 percent of the bonding sites on the backbone are filled with chlorine atoms, while the remaining 60 percent of available sites are filled with hydrogen. The chlorine atoms surrounding the carbon backbone of CPVC are large atoms that protect the chain from attack.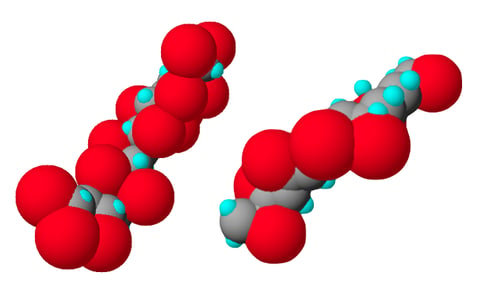 A CPVC molecule (left) has more chlorine atoms protecting the carbon backbone compared to a PVC molecule (right).
It's the additional chlorine molecules that protect the polymer's carbon backbone, which in turn protects its structural integrity against heat. The increased heat resistance allows CPVC to perform at higher operating pressures.
CPVC Applications
These properties are also what make CPVC industrial pipe and fittings suitable in a wide array of industrial applications:
Pulp and paper
Metal treating
Fertilizer
Wherever corrosion resistance and mechanical strength are primary concerns, CPVC should be considered.
Why All CPVC Isn't Equivalent
Although CPVC as an industrial piping material has a long, proven history, not all CPVC industrial piping systems perform equally. While some bottom-line benefits of CPVC are common regardless of manufacturer (including lightweight, ease of installation, low thermal conductivity), CPVC compounds are often differentiated by the level of performance they provide.
CPVC compounds are made with base resins that have different molecular weights and varying chlorine contents, as well as different additives that can affect chemical resistance and long-term performance.
In the same way that two different types of industrial metallic pipe will likely perform differently, it is safe to assume that two CPVC industrial pipes made from different compounds will yield different results. For this reason, it's important to check with your industrial piping supplier to determine the type of tests that have been conducted on that specific CPVC compound.
Corzan® Industrial Systems and our partner manufacturers have tested our material's performance against hundreds of different chemicals to determine its long-term performance.
Check out the Corzan CPVC Chemical Resistance Table, which provides Corzan CPVC's compatibility with more than 400 chemicals and compounds.
In addition, Corzan Industrial Systems and our manufacturers have undergone different types of tests regarding:
Minimum burst pressure requirements
Dimensional tolerances
Residual stress requirements
Drop impact requirements
Fusion property testing
Corzan® CPVC Burst Test Compared to Competitor
As this video shows, you can't assume that the test results of one CPVC compound will parallel the results for a different compound.
Setting the ASTM Standard
ASTM has established a number of standards to verify the long-term performance of CPVC pipe, fittings and solvent cements. Following are three of the many standards Corzan CPVC satisfies:
ASTM F439: Standard Specification for Chlorinated Poly (Vinyl Chloride) (CPVC) Plastic Pipe Fittings, Schedule 80.
ASTM F441: Standard Specification for Chlorinated Poly (Vinyl Chloride) (CPVC) Plastic Pipe, Schedules 40 & 80.
ASTM F493: Standard Specification for Solvent Cements for Chlorinated Poly (Vinyl Chloride) (CPVC) Plastic Pipe and Fittings.
For a full list of Corzan CPVC applicable standards, visit our general specifications page.
Other Considerations
While most of this article is dedicated to explaining the chemical and physical differences between various CPVC compounds, 
it is worth noting other critical considerations that can affect the long-term performance of an industrial piping system. These include:
The reputation and longevity of the manufacturer.
The availability of technical support and service.
Manufacturer testing protocol to ensure consistency.
Corzan Industrial Systems and our partner manufacturers offer comprehensive engineering services, including the ability to perform chemical resistance testing for specific applications.
For nearly 60 years, Corzan CPVC Piping Systems have delivered reliability to the most demanding industrial applications. We also offer a Quality Assurance Program to ensure consistent performance and a uniform property profile.

Schedule a Free Consultation
To learn more about Corzan CPVC and if our material is a fit for your industrial process, schedule a free consultation with our team of product and engineering experts. Contact us today.